Pollinators in our Gardens
April 13 @ 10:00 am

-

11:15 am
A workshop conducted by Dr Brad Howlett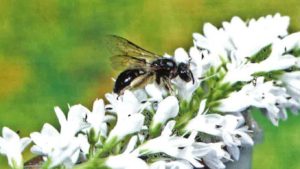 Honey bees are relied on for many NZ crops such as kiwifruit, avocado, apples, plums and apricots.
The humble bee contributes $5 billion a year to our national economy!
However, there are more pollinators contributing to our economy than honey bees.
Dr Brad Howlett, is a pollination scientist at Plant and Food Research, Lincoln. He will introduce us to other bees and insects that contribute to crop and vegetable pollination.
The topic is sure to be of interest to folk of all ages, so children are welcome.
 __________________________
Please park on the street.
Gold coin donation requested to support the Community Gardens.
_____________________________________________
Our Sponsors
A big thank you to our wonderful sponsors!
We extend our sincere appreciation to all our sponsors, Rata Foundation, Selwyn District Council, COGS, Lottery Community, Lincoln University and CDHB.