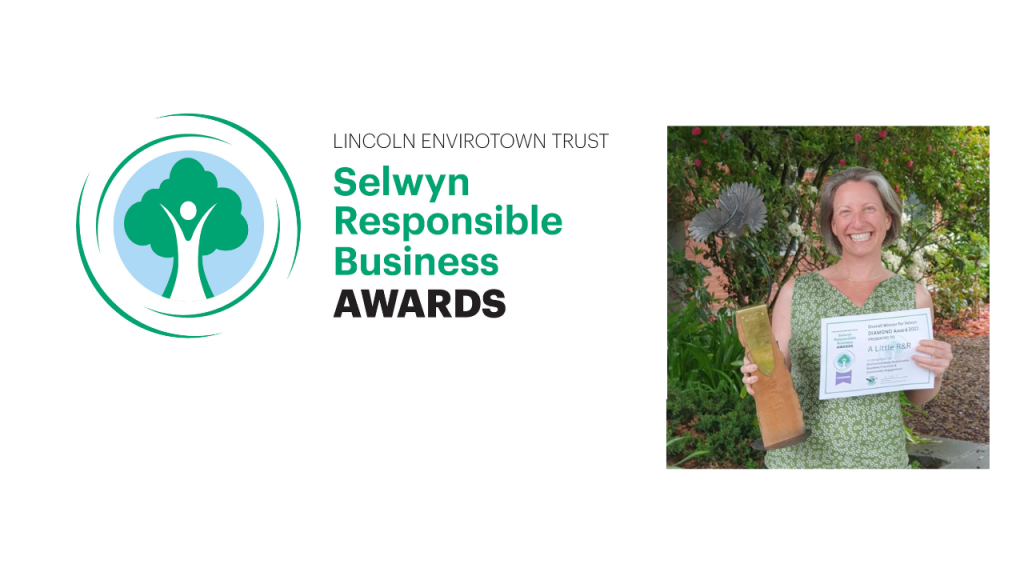 We would again like to thank all the businesses and schools that participated in the Selwyn Responsible Business Awards 2022 along with our supporters that made it possible. There was a tremendous response this year and we hope that the many people who were able to attend the Awards Evening enjoyed the occasion. We certainly enjoyed the celebratory atmosphere and the citations delivered by our Assessors to each certificate recipient showed that there are great efforts being made to conduct business activity with the Environment and Community in mind. We heard about many excellent initiatives. All are to be congratulated. The area and overall winners are listed below along with all the organisations that took part this year.
In the forthcoming year we do not run the Awards but we operate a Responsible Business Network which we hope people will join. This is not intended to be a time consuming activity but simply a way of businesses, as they have time, sharing and receiving information largely on media and discussing activities and initiatives. There will be a few get-together's with guest speakers for those interested.
---
Thanks to Our Speakers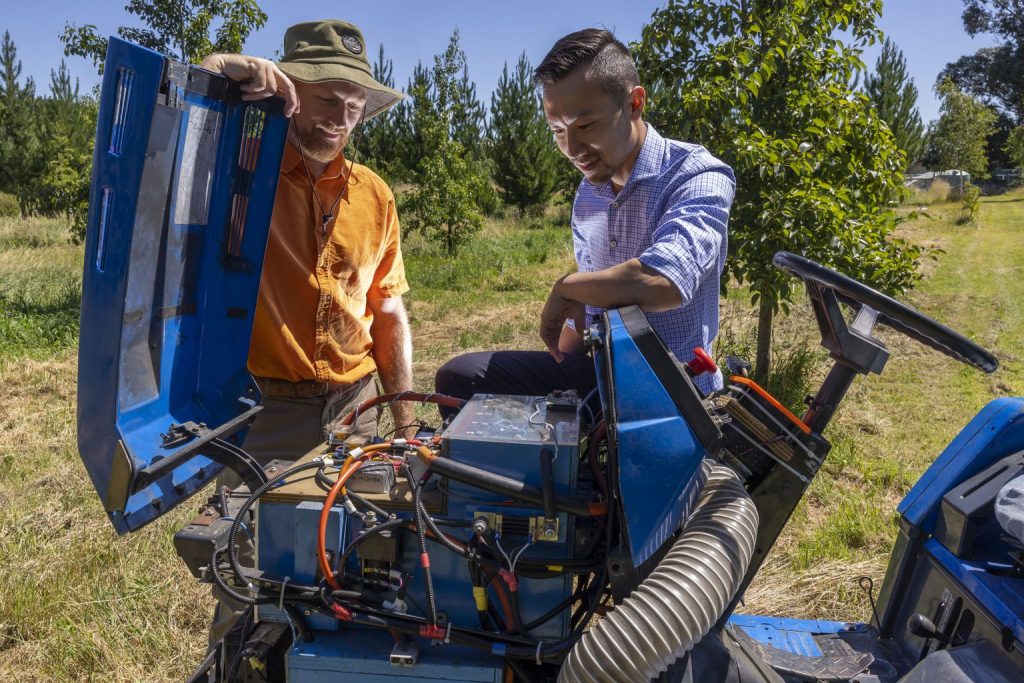 It was a pleasure to hear from Tony from Loxley Innovation Ltd. The advancement of electric tractor technology is a fascinating topic and we certainly hope Tony and Duncan find success with their business.

Anyone wishing to get in contact with Loxley to further support or discuss their endeavors can find more about them here. Spread the word!
It was also a pleasure to hear from John Veix who has been busy planning the Selwyn Sustainability Expo which takes place in Rolleston in January 21st and 22nd 2023.John also supplied a gift of native plants to the award attendees, which was very much appreciated.
Thanks to Our Sponsors
Selwyn District Council, the Rata Foundation and Lincoln University are greatly appreciated as long term supporters. Many thanks also to Councillor Nicole Reid who presented the certificates and trophies.
This project also relied on specific supporters; The Waste Management Department of Selwyn District Council separately support the work of our Assessors and survey development which enables us to visit widely scattered businesses and make for a thorough and thoroughly enjoyable process; Lincoln New World enabled us to provide a great spread of food and some of the refreshments and Rossendale Winery supplied the wine; all of this support is at an extremely generous level.
And finally… Congratulations to our winners!
The OVERALL WINNER is….
A Little R & R Massage Therapy!
Well done Thea, and thank you for such an exemplary model of how to care for your clients, your planet and your local community!
The area winners are….
Ellesmere: Fires N Things
Runner up: Straight 8 Estate
Rolleston: Kreative Kiwi
Runner up: Fix Ur Ride
Prebbleton: ReCycle ReCreate
Runner Up: Kakariki Kitchen
Lincoln: Bento Ninja
Runner Up: Brown Acres
Malvern: Darfield Eco Garden Centre
Runner up: A Twisted Bunch
Education: Glentunnel Primary School
Runner Up: Ararira Springs Primary School
Diamond Awards
| | |
| --- | --- |
| A Little R&R – Therapeutic Massage, Overall Winner | Lincoln |
| Ararira Springs Primary School, Runner Up Education Category | Lincoln |
| Bento Ninja, Winner Lincoln Area | Lincoln |
| Glentunnel School, Winner Education Category | Malvern |
| Kreative Kiwi, Winner Rolleston Area | Rolleston |
| Ladbrooks School | Lincoln |
| West Rolleston Primary School | Rolleston |
Platinum Awards
| | |
| --- | --- |
| Brown Acres, Runner Up Lincoln Area | Lincoln |
| Darfield Eco Garden Centre, Winner Malvern Area | Malvern |
| Fires N Things, Winner Ellesmere Area | Ellesmere |
| Fix ur ride, Runner Up Rolleston Area | Rolleston |
| Kakariki Kitchen, Runner Up Prebbleton Area | Prebbleton |
| Lincoln Library | Lincoln |
| Lincoln University Early Childhood Centre | Lincoln |
| Lincoln University Gym | Lincoln |
| Neemo Childcare Centre | Rolleston |
| New World Lincoln | Lincoln |
| ReCycle Recreate, Winner Prebbleton | Prebbleton |
| Southbridge School | Ellesmere |
| Straight 8 Estate, Runner Up Ellesmere | Prebbleton |
| Weedons School | Malvern |
| Yoga by Karma | Rolleston |
Gold Awards
A Twisted Bunch, Runner Up Malvern
Malvern
APT Garden Creations
Rolleston
Austin Bluewater
Rolleston
Biological Husbandry Unit (BHU)
Lincoln
Café on the Green
Malvern
Challenge Tai Tapu
Lincoln
Clean Green Laundry
Malvern
CNC Solutions
Rolleston
Coffee Culture
Lincoln
DWG – Landscape Architect and Outdoor Kitchens
Lincoln
Edwards & Co Builders
Lincoln
Ellesmere Butchery
Ellesmere
Filter Crusher NZ
Lincoln
Food Art Science
Prebbleton
Hammer Hardware
Lincoln
Herslevgord / Nordic Concepts,
Forest Quip
H&M Machinery
Rolleston
Intelligro
Rolleston
Klox Business Solutions
Rolleston
Leech Wood Products
Ellesmere
Lincoln University
Lincoln
Melton Estate
Malvern
NZ Look Shuttles & Christchurch Combined Shuttles
Lincoln
Reinvent Boutique
Lincoln
Rossendale Wines
Lincoln
Selwyn Cattery
Lincoln
Solarcorp
Lincoln
Southern Woods
Rolleston
SRS New Zealand
Rolleston
Streamside Organics
Ellesmere
The AgriBusiness Group
Lincoln
The Chaff Chaps
Prebbleton
The Ellesmere Echo
Ellesmere
The Laboratory
Lincoln
Silver Awards
| | |
| --- | --- |
| Ako Rolleston | Rolleston |
| Broadview Organic Produce | Ellesmere |
| Charing Cross Sheep Dairy | Malvern |
| Darfield ITM | Malvern |
| Eden Chiropractic | Lincoln |
| Farmlands Darfield | Malvern |
| Escoces Lane AirBnB | Malvern |
| Healthy Harvest | Prebbleton |
| iSushi | Lincoln |
| Jim's Mowing Rolleston East | Rolleston |
| Johnny Fresh | Malvern |
| Lemonwood Grove School | Rolleston |
| Lincoln Hair Design | Lincoln |
| Lincoln High School | Lincoln |
| Lincoln Post Shop / Kiwibank | Lincoln |
| Liquorland | Lincoln |
| Mexicali Fresh | Lincoln |
| Property Brokers Selwyn | Rolleston |
| Roper & Son Limited | Lincoln |
| Sherlin Alpaca Stud | Malvern |
| Team Bookkeepers | Lincoln |
| The Flaming Rabbit | Lincoln |
| Tock Earth | Lincoln |
| VetEnt Darfield | Malvern |
| Woodshack Kitchens | Rolleston |